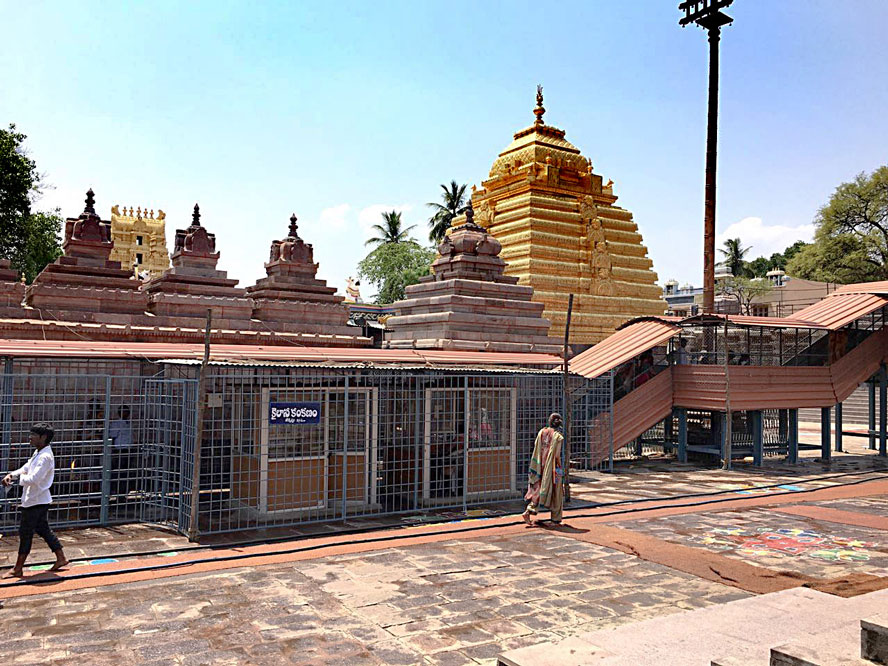 Work or leisure, journeys always contribute to augment our knowledge and experience. But the most cherished ones are the journeys etched in our memories with innumerable unforgettable moments that stir our souls for a long time. One may find Air or Rail travel much more convenient and comfortable to enjoy a sojourn but it's difficult to beat the thrill and excitement of trailing the tantalizing strip of tar and perceive nature up, close and personal. And I love road journeys. No wonder, this time we chose to go on long weekend drives to experience the thrill of unknown and explore the undiluted cultural extravaganza the country offers. In a vast country like India which is a melting pot of culture, long history, varied landscape, spiritual anchorages, we settled for divine escapades to sacred Dwadasha Jyotirlingas and Siddha Shaktipeethas dotted across the country. And to start with, our first destination was Sri Mallikarjuna and Bhramaramba Devi Shakti Peeth both in Telangana, south India. A return trip to Hyderabad, 850 km from Bhopal, was planned that would include overnight stay in the city of Nizams.
Setting off to the Sojourn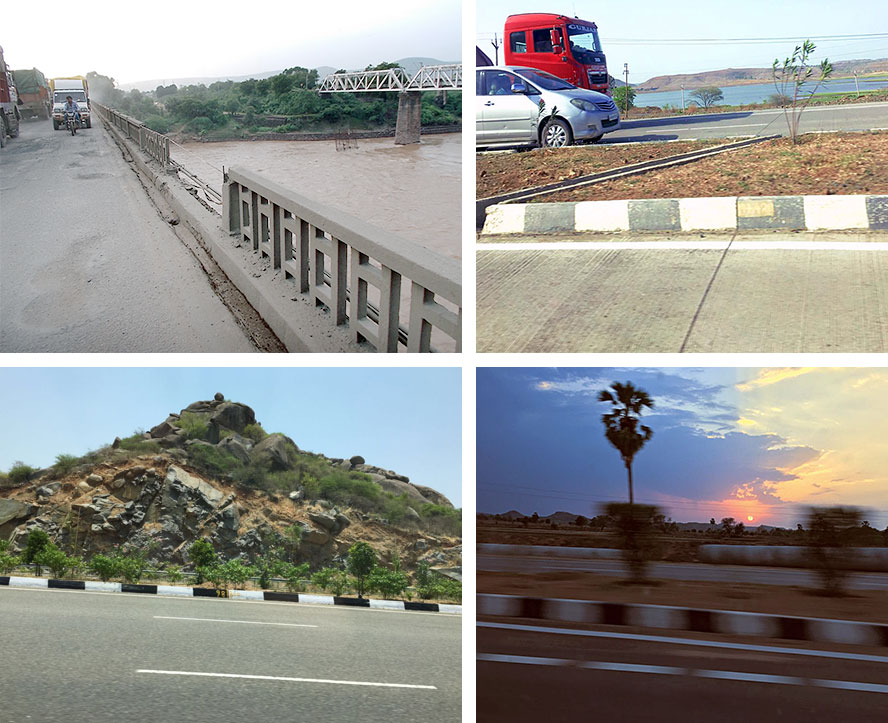 We started our grand tour, cargo and all, at 7:30 in the morning from Bhopal. We chose our Audi for this go-by-car expedition. Driving on NH-46 our first halt was scheduled to be Hoshangabad via Obedullaganj and Itarsi. We started on a slow note. The entire 70 km single lane stretch to Hoshangabad was clogged with traffic jams. Many parts of the NH46 are awaiting repairs and so we had to take many diversions and detours. The bumpy potholed 100 km road from Hoshangabad to Betul is even worse, and the fact that it ranges through forested areas doesn't really help matters. But the 180 km Betul -Nagpur four lane NH47 is fine, and after enduring many hours of stop-start drive, we were keen to speed our progress. It was sad to notice that Indian Highways continue to be unsuitable for women for want of facilities. If road tourism in India is to find many more takers, especially families, conditions must change for good. We also faced some unfamiliar hassles at fuel stations; refueling took a lot of time as the nozzle of the petrol pipes at most of the fuel stations are not compatible with the design of high end luxury cars.
By this time, we had already traversed 351 km, and we decided to pull over at Haldiram's Quick-bite Restaurant in Nagpur for refreshments. Modern navigation tools come in very handy for first-timers. We took seats at the restaurant and made discreet orders. Being hungry we were prone to excess. But we had to watch what and how much we were eating. Better to be safe than sorry, as there was still a long way to go.
Nagpur Hyderabad Highway (NH44) is better for speed run, and it becomes even better after entering Telangana state. NH44, incidentally, is the longest North-South highway in India that starts from Srinagar and terminates in Kanyakumari connecting the two farthest borders of the country. This part of India is a case study of the important role that road infrastructure plays in the progress of any region. We enjoyed our spin chatting with each other while also observing the abundant greenery. But on Indian Highways something is always a little off. We found no cafes along the way, nor were there any dhabas worth a salt. As for the pathetic condition of toilets at the petrol pumps, the less said is better.
As we drove further into the Telangana state natural rock formations resembling various familiar shapes on either side of the road were a real treat for the discerning eye. We were wide-eyed and amused to see the rocks forming countless shapes that would sometimes appear like mushroom and sometimes like a giant turtle, and our hands instinctively reached for iPhone cameras to capture the nature's own creativity. Apparently, these rocks are the result of massive geological changes, which took place millions of years ago, shaping the face of peninsular India, and consequently giving birth to these amazing sculptures. What else could be the other way to enjoy such marvelous wonder of the nature if we weren't travelling by road? For sure, we were on the right track.
Camp – Park Hyatt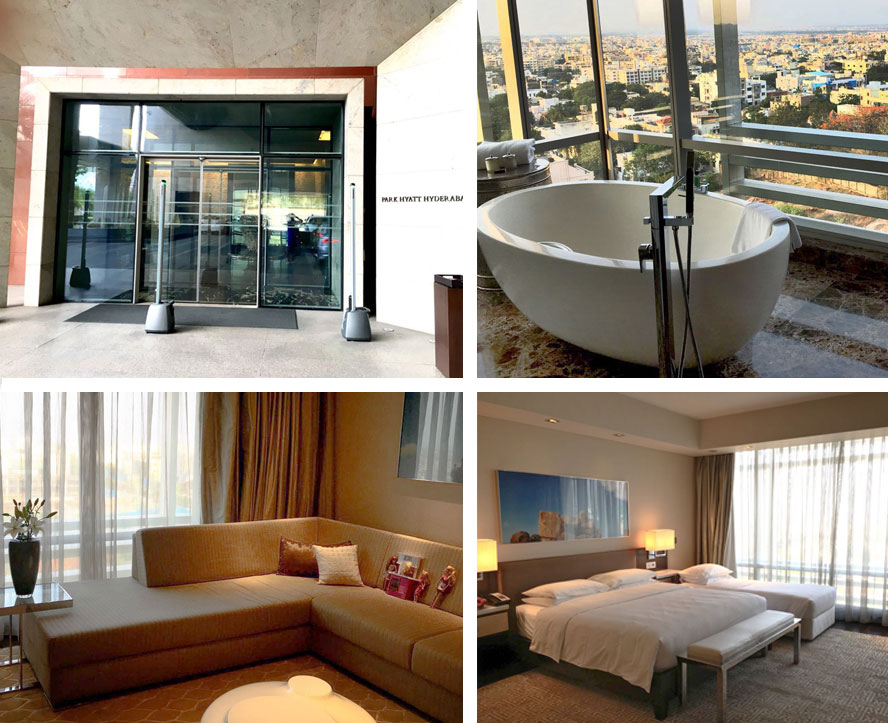 It was already 8:15 p.m. when we finally reached Hyderabad. It was now time to set our navigation to our pre-booked accommodation at the Park Hyatt on posh Banjara Hills in Hyderabad city. The five star hotel with its grand and lavish interiors and tastefully done suites was just the warmth and welcome we needed after all those hours of roadwork. A good night rest followed and in the morning we were ready for the next stage of our epic journey to Sri Mallikarjuna temple.
Drive to Shri Shailam
213 km away from Hyderabad in Kurnool District on NH-765, our next camp was the Shri Shail mountain housing the sacred shrine of Sri Mallikarjuna Jyotirlinga and goddesss Bhramaramba Devi. A beautiful winding road bisecting the dense forest area with thick Bilva and Kadli trees was solemnly tranquil. Save for the chirp of birds and rustle of trees caused by monkeys in wild abandon all along the way. Peacocks dancing with their tails elevated in courtship display and forest dwellers labouring in the distance seemed like the guardian angels of the vast natural wealth while the waters of holy river Krishna nourish the great heritage of this bounteous land.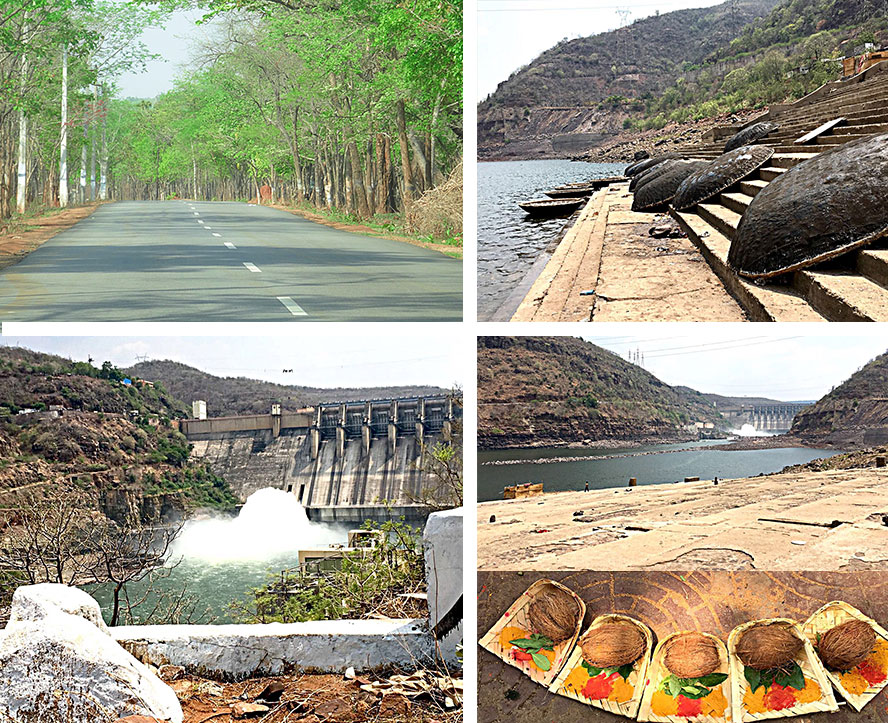 About four and half hour long drive to Sri Shailam flaunts the majestic view of gushing waters of the holy river. Tourist throng along the winding hilly road to view the massive frosty water falls from 885 feet high Shri Shailam Hydro Electric Power Project Dam on the river which completed in approximately 20 years. Hoards of tourist gather in monsoon season to enjoy the magnificent sight when the 12 gigantic radial gates of the dam open to release overflowing waters of river Krishna, also known as Patal Ganga, a 1300 km mighty river fed by tributaries like Bheema and Tungabhadra. Devotees wait to take holy dip in the river before lining up for a glimpse of their beloved god. Ahilya Bai, the great Holkar Queen and herself a Shiva Devotee, had constructed a huge bathing ghat containing 852 stairs for the pilgrims.
Savoring so many wonderful sights, we were now heading towards scenic Nalla Malla Hills, also called as the Kailash of the South. Nalla means beautiful and Malla means lofty. The holy place is full of divine vibrations, a benediction that washes over all those who are lucky to be present at the holy place. The picturesque mountain is one of the mortal homes of Shiva and his consort Shakti. According to a Hindu belief, both Shiva(god) and Shakti(power) are not different but one whole. They are complementary and supplementary to each other at the same time. Shiva and Shakti in fact are no different. The soul of Shiva is Shakti. Remove Shakti and Shiva is only as good as redundant.
One to One with the Divinity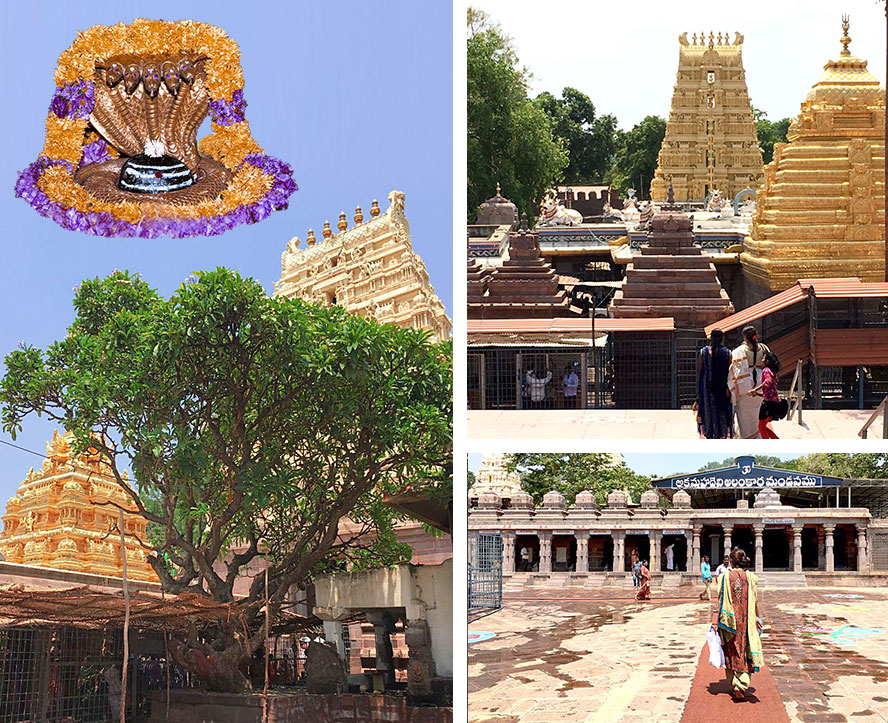 Lost in our divine thoughts, we reached the abode of Sri Mallikarjuna and Ma Bhramaramba temples. The pious place instantly filled our hearts with a pure divine feeling. There is an arrangement of online booking for visiting the holy place. Pilgrims can earn the chance of performing a Jalabhishek (a special ceremonial worship of Lord Shiva) by depositing a token amount of Rs 500.
There are several beliefs about how the holy Jyotirlinga came into being. According to Shiva Puran, lord Shiva had two sons, Ganesh and Kartikeya. Lord Ganesha was the first to settle down in matrimony, and this angered Kartikeya who then left his parents' abode and went off to live on the Kroncha Mountains. Anguished by this, Lord Shiva and Parvati followed on the mission to pacify their annoyed son. But Kartikeya was in no mood to relent and when he came to know that his parents were coming towards him, he went farther 3 yojans away. Disheartened by this, Lord Shiva decided to reside on the mountain with Parvati, assuming the form of a light column (a Jyotirlinga – meaning a lingam made up of light), which since then became the holy abode of Sri Mallikarjuna. Mallikarjuna is a fusion of two words: Mallika or Parvati and Arjuna or Shiva. Mallikarjuna Jyotirlinga is considered to be very auspicious as it manifests the combined power of both Lord Shiva as well as Parvati Devi(Shakti).
According to another popular folklore, princess Chandravati took shelter in the Brahmagiri mountains to save herself from some distress. One day she discovered to her shock that someone had been stealthily milking her cow Shyama. Overcome by the urge to find the thief, she followed her grazing cow and saw it standing under a Bilwa tree with milk flowing from her udders. The milk was disappearing under the ground's surface. Spellbound, Chandravati dug up the spot and discovered a swayambhu Shivalinga(a naturally occurring Shivalinga). The princess got a grand temple constructed around the Shivalinga. One of the twelve Jyotirlingas, Sri Mallikarjun is a highly revered shrine and believed to bless all those who offer worship here. The temple is surrounded by mighty fort-like walls standing 20 ft in height and 6 ft in width, in an area of 2120 sq ft. The imposing walls of the temple were built using 3200 huge and heavy slabs of stone each weighing one ton. The boundary walls of the temple have 4 magnificent entry gates with Gopurs(pyramid shaped towers) on them. The Dravidian style temple design with its sprawling courtyards and towers is a glorious example of Vijaynagar architecture. The temple campus has many ponds of various sizes. The water from Manohar Kundam is considered to be the most suitable for offering to the deities in worship. This area is also believed to be the hermitage of ancient sages Guru Datatreya and Atri. Adi Shankaracharya's Shivnanda Lahiri was also composed in the pious Mallikarjuna premise. Just outside the temple, a big peepal tree provides rest and peace to those who wish to spend some time in silent contemplation.
Further exploring the great history of the temple reveals that besides great Vijayanagar rulers, Satvahan, Ishvaku, Pallav, Vishnu Kundi, Chalukya, Kakatiyar, Reddy as well as the great Maratha king Chhatrapati Shivaji contributed greatly for the construction, expansion and restoration of the temple. Archaeological studies have been conducted to trace its antiquity. Historians believe that the temple is at least 2000 years old. Puranic tales mention that Hiranyakashyapa, Narada, Pandavas and Shri Ram had prayed at the shrine.
The Shaktipeetha – Maa Bhramaramba Devi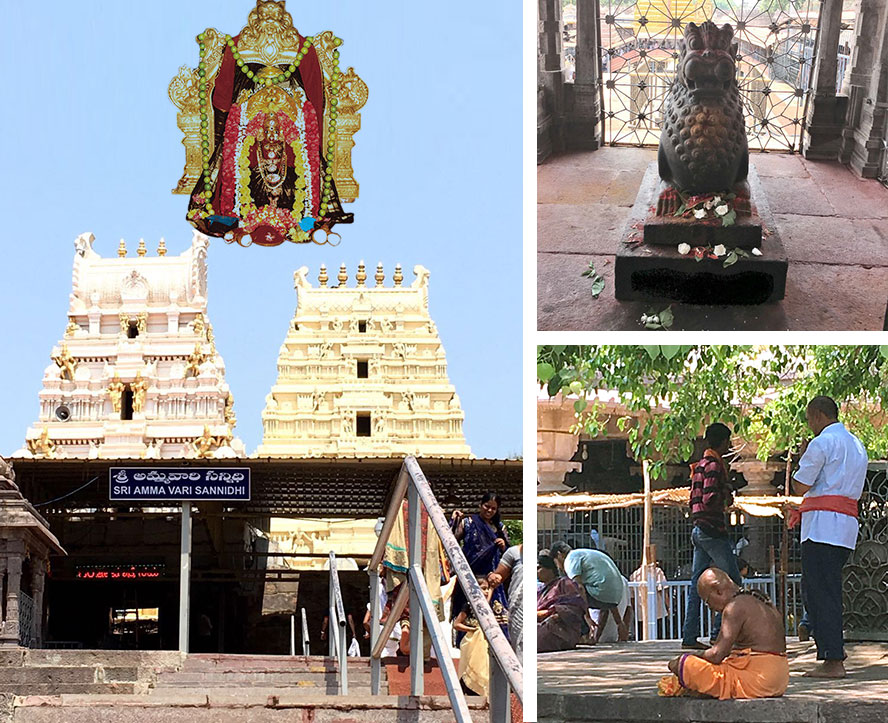 As we move further, some distance away a flight of stairs takes pilgrims to the holy shrine of Goddess Bhramaramba. It is believed that at this holy spot Mother Sati's Griva (Neck) had fallen. One of the 52 Shaktipeethas, here Goddess Sati is worshipped in the form of Mahalakshmi. The garbhgriha or sanctum sanctorum of the temple is adorned with the sacred Sri Yantra. It is believed that the Goddess had assumed the form of a Bhramar or bumblebee to kill the demon Arunasura to save Devas from his atrocities, hence the name. The locals claim that they hear buzzing sounds around the shrine even today. It's all talk but the faithful believe. Prayers are offered to Sri Yantra by sprinkling sindur(vermillion) while the priests recite Devi shlokas. A donation fee of Rs.500 is charged for the prayer. People also associate the place with sage Agastya's wife Lopamudra. It is believed that a mere look at the sacred Sri Shail mountain peak brings relief and god shows the way.
After offering soulful prayers at the Shiva and Shakti temples, it was time to head for Shri Veerbhadra shrine situated adjacent to the main temple premise. A visit to the nearby temple of Sakhi Ganesha is a must who, according to a legend, records the visit of devotees to Sri Mallikarjuna. Drive a little further and there is a huge statue of Nandi, Lord Shiva's bovine mount. There is a popular practice of climbing right up to the peak, Shikhareshwaram, and catching a glimpse of the temple through the space between the ears of a small statue of Nandi. A measly charge of Rs 2 must be paid to enjoy the privilege. After completing the pilgrimage, we were ready to drive back, devouring the natural beauty all the way down, with the sound of gongs reverberating in the air, and with a yellow-blue thread tied around our wrists reminding us of an unforgettable pilgrimage we had accomplished.
To Pious Pochampalli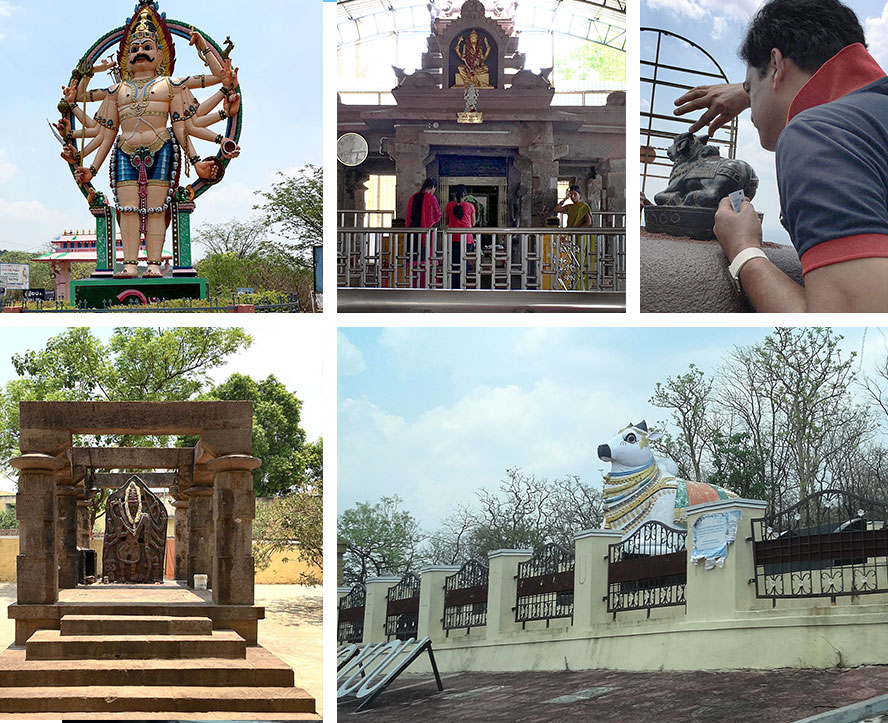 The next day was planned for a visit to famous Bhudan Pochampalli village, 42 km from Hyderabad on NH-65. A smooth and wide NH 65 would take us to the village in an hour. Wide green spreads along the road and air filled with sweet scent of the soil fills the senses as we enter the hamlet which is home to a community of around 4000 sari weavers. Pochampalli's cotton and silk sarees are in huge demand the world over. The rhythmic clacking sound of the handlooms emanates from almost every household. Almost every house in the village flaunts colourful decoration at its doorway with vibrant rangoli patterns demonstrating incredible artistic skills of the residents of this beautiful village.
Talking about famous Pochampalli Ikat sarees, the traditional geometric patterns made by horizontal and vertical lines, squares, diamonds and intricate motifs seem to be inspired from old Siddipet Khan designs. The designs also bear stark resemblance to various shapes like that of flowers, parrots, elephants or a dancing woman as seen on the Patan Patola design patterns of Gujarat. The weavers explain that typical Pocham Palli sarees with their characteristic wide contrast borders are made by single our double weave using centuries-old style of Ikat. Ikat is a style of weaving that uses a tie-dye process on either a warp or weft before the threads are woven to create a pattern of design. A double Ikat is when both the warp and the weft are tie-dyed before weaving. One may buy beautiful Pochampalli sarees from shops scattered all over the village. The exquisite silk sarees range from Rs 4000 and goes up to Rs 30000. Cotton sarees though are inexpensive. The village is historic in the sense that it played a key role in Acharya Vinoba Bhave's Bhoodan movement. Conjuring images of the culturally vibrant rustic countryside full of colourful shapes and patterns, we returned to Hyderabad.
In the city of Nizams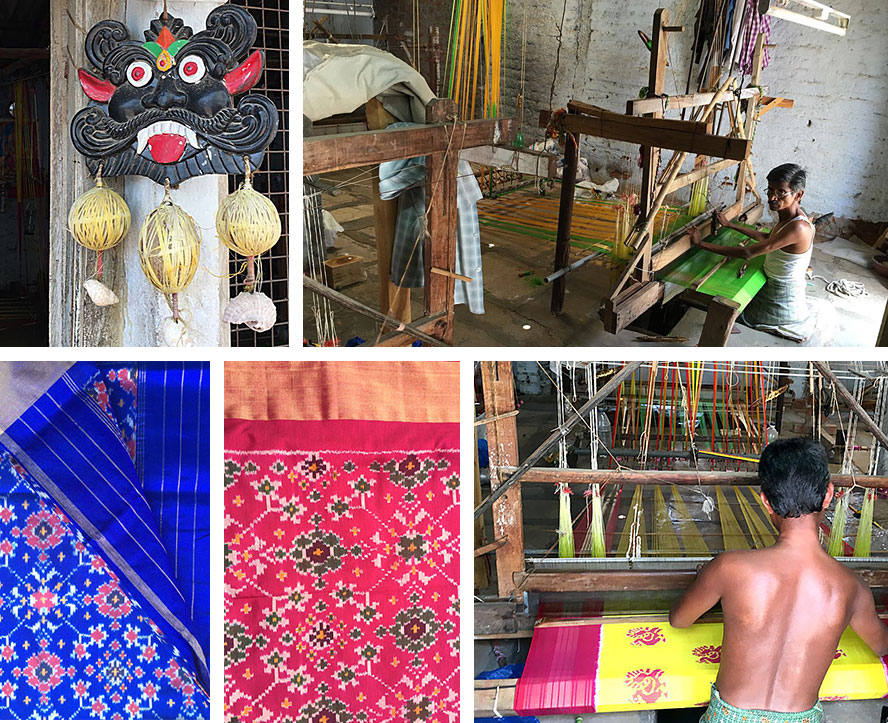 Now was the time to get a close experience of the famous ganga jamuni culture of the city of Nizams, Hyderabad. It's a culture defined by Hindus and Muslims living in harmonious peace. A city with a distinct architectural style, Hyderabad was constructed by rulers of Qutub Shahi and Nizam Shahi dynasties.
No sojourn to Hyderabad is complete without a visit to the Charminar and other architectural wonders of India's medieval past. History reveals that during the reign of Qutub Shahi rulers, architects from Iran were especially brought to Hyderabad, and the city flourished with more and more people flocking to the place. Hyderabad means "city of the brave" in Urdu, and its imposing grandeur is so true to its name.
The Qutub Shahi empire was founded in the year 1512. The fourth emperor built Bhagyanagar for his wife Bhagmati. This beautiful city came to be known as Hyderabad. The town was his state capital till 1687. The fifth king of this clan built a grand memorial called Charminar, to commemorate eradication of dreaded plague disease in 1591 AD. The Charminar is a square structure with each side 66 ft long, and having four grand arches. At each of the four corners is a highly ornate minaret, standing 184 ft in height. The edifice was constructed with granite, limestone, mortar and pulverized marble. The Charminar is also famous for its balustrades and balconies.
We spent some time at the glittering Laad Bazar shops, and and came face to face with the majestic Golkonda fort some distance away. The legend has it that the Kakatiya kings constructed the fort on a hillock on the counsel of a shepherd in the year 1143 AD, something that gave the fort its name. Golla means a shepherd and Konda means hill. The fort is some 3 miles in length and has 9 gates, 43 windows and 58 underground tunnels for safe escape. The fort was considered as unbreachable and has always been a major attraction for the tourist. A few paces down, we came across Ibrahim Bagh containing the final resting places of seven members of the Qutub Shahi clan. The 140 ft tall dome of Qutub Shah tomb and 140 ft long chabutara(a raised platform) stands witness to his royal stature. These magnificent structures are excellent specimens of the Indo-Islamic architecture with strong Persian influence.
We kept threading our way through the lanes and bylanes of Hyderabad till evening. Now it was time to head for exquisite restaurant of Grand Hyatt to relish some authentic Hyderabdi cuisines. No mention of Hyderabad is complete without its quintessential Biryani. A few platefuls arrived garnished with blood red pomegranate seeds and served with many sweet-sour accompaniments and side-dishes. No doubt the biryani is the king of dishes, but there is other spread as delectable like Khati daal, Hyderabadi mirch ka salaan, baghare baigan, and a dessert called khubani. Hyderabad holds a special appeal to the palate, and what could be a better place for foodies from all over the world to visit the city and enjoy their fill. Apart from gastronomic delights, one could also pick up some unique Hyderabadi lingo. Commonly used words like kaikoo, nakko, potti-potta, mereku, tereku were always heard during the course of conversation. It's easy to learn sweet local dialect in the course if eyes and ears are not shut.
Thousand KMs – Thousand Memories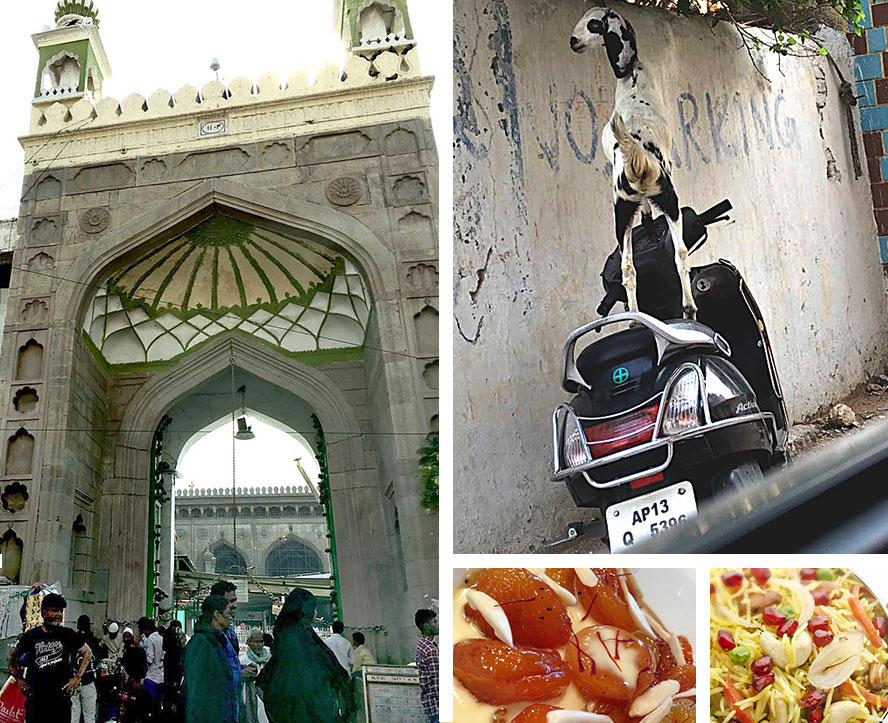 The time we spent furnished our senses with amazing new experiences, we felt as if we could fill many blank pages with the anecdotal accounts of our visit and paint many a canvas with the vivid and colourful memories we had gathered. God's bounty has truly blessed this country in every way imaginable. As we were wending our way back to Bhopal, we carried a rich montage of history, natural beauty, modern economic progress, spiritual grace, culinary delight and much more. Our memory cards were crammed with snapshots and hearts overflowing with contentment after our trip to the Deccan, thanks to our assimilative culture which teaches us to respect every religion. India is so much richer for that. Our road trip to Pochampalli, Sri Mallikarjuna and Bhramramba Shaktipeeth finally ended with some unforgettable memories that will be treasured in our hearts forever.