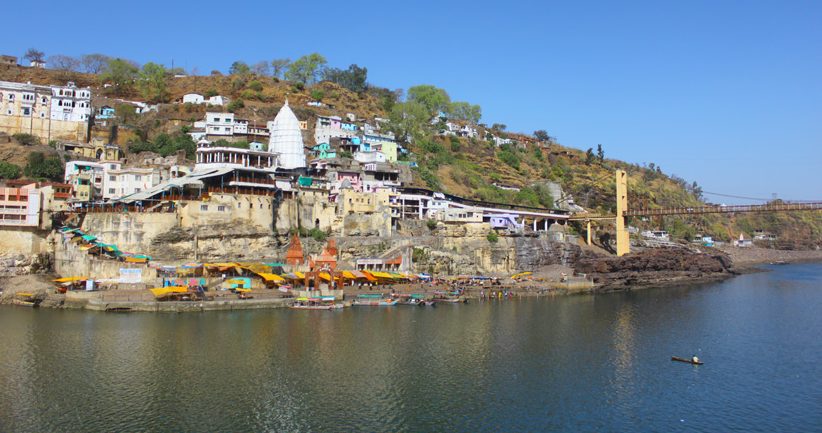 Travelling definitely makes you a lot wiser and quite a visionary. With each passing mile, you emerge a little more experienced and thoughtful than the last one. Although, every road is bound to have obstacles but, interestingly, these hurdles, which might irritate you a bit during any normal expedition, never seem to bother you on spiritual peregrinations.
The best part about a spiritual voyage is the purity in one's thoughts and the natural scenic surroundings which intrigues you to acculturate the traditions and local civilities.
…And the voyage begins
All said and done, this weekend, we way-fared the road leading to the divine OM. Omkareshwar or Omkar-Amleshwar, as it is rightly called for it's mythic and divine connotations, is one of the 12 sacred Jyotirlingas situated on an OM shaped island.
About 263 kms from Bhopal, Shiva's this abode is approximately 4 and a quarter hours drive and thus we geared our Audi at 7.00 in the morning. The four lane highway to Indore, SH-18 is quite a treat for travellers as you relax on the easy road which tours you all the way from Sehore, Aashta, Sonkachh and Dewas. 100 Kms, straight after you start your journey is your first halting point – M P Tourism's Highway Treat at Dodi. An MP Government's tourism initiative, this Midway Retreat is a must for refreshments. The accomodations and facilities are quite hygienic and you definitely should brunch on Poha- Jalebi, an Indori delight and add it on with Samosa and Khasta Kachori. Although, the route is smooth but you need to hedge from the erratic Tractor trolleys, Motorcycles, bullockcarts surprisingly popping up at some junctures especially those connecting the villages to the Highway. While driving you should also be prepared for a lot of Mooing once you cross Bhainsakhedi, Icchawar, Mughaliyachhap and Dewas. Herds of stray cattle impede your otherwise effortless drive and you have to literally carve your way through barks and moos. Hence it's highly advisable to drive very carefully on this state highway.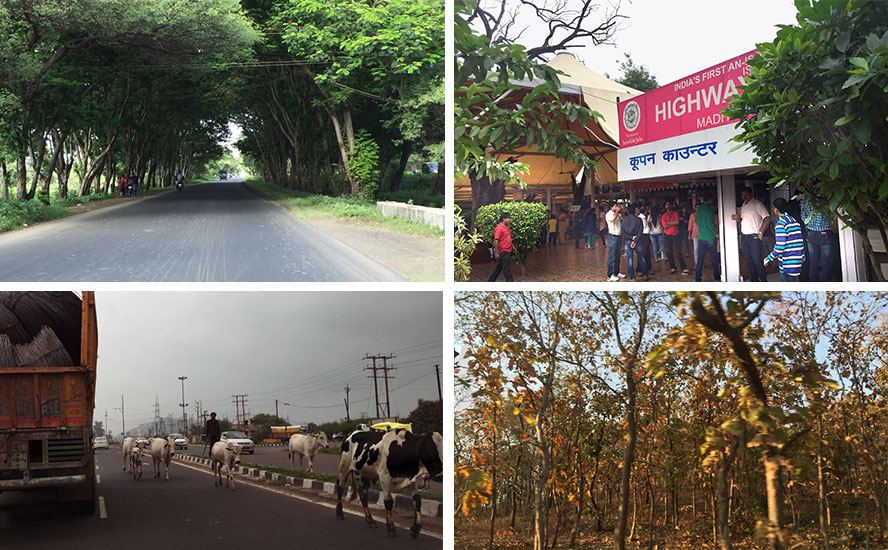 Once you are on your way to Indore from Dewas, dozens of windmills will mesmerize you, nonetheless. The next segment is a swift one. NH- 52 from Dewas to Indore, taking the By-pass at SH-27 (Khandwa- Indore), driving 77 more kms from Indore you reach Omkareshwar. Black tar is a vision on this broad two-lane uninterrupted road. Driving through Simraul, Barhwaha, Mortakkaa and finally Mandhaata is where we had chalked out a weekend plan for the holy terrains of Shiva.
Being a hinterland, the terrain demands good driving skills and yet your speedometer needs a check. Craggy Hillocks, decorated with a rich line of flora and fauna seem much involved with Sun and the rays. Dancing shadows and singing cascades accompany your short drive to Omkareshwar.
The serendipity at Omkareshwar enthralls you. Nature kissing the divine forehead of this Om shaped island captivates you. It is overpowering. The tradition behind the Om blending with the unflappable divinity of the place is beyond words.
Sal, Teak and Mahua, deep rooted on sandy cliffs, guard this place while the sublime Narmada endows it with serenity such that the calmness enraptures every stone echoing the holy word OM.
The Chastening holy river – Narmada
A massive 1312 meters long river Narmada is the lifeline of Madhya Pradesh in true sense. In Omkareshwar, it segments into Narmada and Kaveri, thus creating a small island specifically reflecting the letter OM. It is the only river that flows westwards from the Satpura and Vindhyachal range. Localites believe that Yamuna purifies you with 6 holy dips and Ganga with a single embrace. But Narmada chastens you just with a glimpse. Backbone to the agro economy of the Central India, the river is often termed as 'Ganga to the underprivileged'. Vedas and Scholars assimilate Ganga to Rigveda, Yamuna to Yajurveda, Saraswati to Atharvaveda and Narmada to Samveda. As Samveda is the veda for melodies, chants, art and culture, hence areas aligning with the river metamorphose the folklore, beliefs and heritage. Every single drop of Narmada is a reverberance to belief and devotion.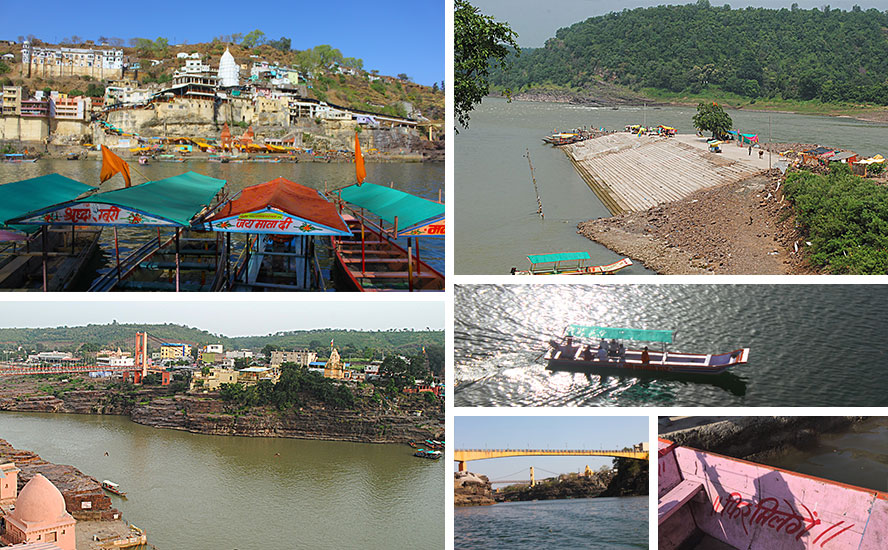 As soon as we entered Omkareshwar, we first saw the enormous Omkar dam project. This 950 ft long, 33 ft tall dam produces 520 Megawatt electricity. The dam has 23 radial gates, which intensify the gigantic waves of the river during rains. Earlier, when the dam was not in existence, the pilgrims used boats to reach Dhawdi Kund to buy Narmadeshwar Shivalinga, formed by Narmada waters and were a symbol for self manifestation. Now after construction of the dam, the route is initiated through Bakaanwaa village. Omkareshwar radiates the indigenous Nimaad traditions, a delight to carefree and relaxing moods.
The clock ticked 1.00 and we decided to plunge at MP Tourism's, Narmada resort perfectly placed at Narmada banks with picturesque view. At the resort, another interesting information was dropped upon at us – Narmada water is heavy and you don't feel like eating once you gulp down a litre or two.
Nimaari cuisine is simple – Daal Baati, Churma Laddoos, Potato cooked in Tomato gravy and it is available at every local Dhaba. Also, delicacies include Jowar chapati, Gram pulses and Amaadi curry. The plain yet appetizing meal was enticing. May be the transcendence of Narmada water and positivity of the place had already taken a toll.
Where sediments echo OM – Omkareshwar
The big glass windows of the Narmada Resort Restaurant transported us again to the scenic aura of this OM shaped island. We couldn't stay back at the hotel any longer. Omkareshwar temple is situated on the southern tip of this 4km long and 2 km broad OM. Citing the Puranas, the hills are also called Vaiduryamani. Archaeologists mark the history of this area to 700 BC.
While literature suggests that this area was the southern territorial boundary for Avanti, mythological references claim that a Suryavanshi ruler from Ishwaku dynasty, Mandhata prayed to Lord Shiva and requested him to reside on the Hills forever. And thus, the Lord manifested as the Jyotirlinga.
The captivating Aura of Shiva
According to the local legends, the self manifested Shivalinga, dissected in two – Omkar, located on the island and Amlaeshwar, located on the southern bank of river Narmada. Some folklore recite the story of Mandhata's son Ambarish and Muchkunda, who pleased Lord Shiva with their severe penance and austerities. Another legend says that Vindhya Parvat was worshipped for six long months by Omkarnath and hence the Jyotirlinga appeared.
Our iPhone6 was swift enough for a gallery full of photographs while we hypnotized ourselves completely to the Shiva aura of the place – calm yet indulging.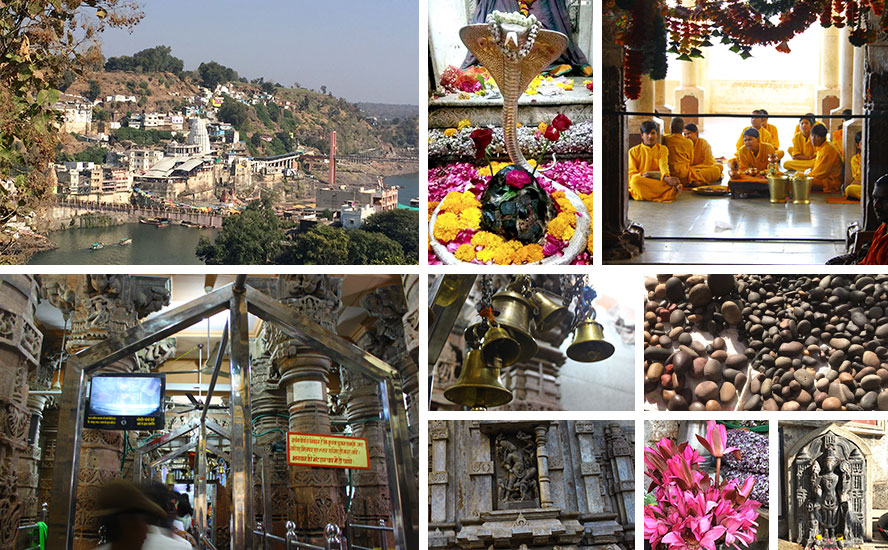 The Omkar area is divided into three segments – Brahmapuri, Shivapuri and Vishnupuri. Resonating with devotion and dedication one can reach Kotiteertha, Chakrateertha, Kewalram, Naagar, Gomukh, Brahmapuri, Bhairo and Sangam Ghats by boats. We reached Kotiteertha by a Government approved boatman from Gomukh in 50 Rs. There are around 250 ferries. Once you reach the bank after a small boat ride, the first glimpse is a long line of shops selling Prasad and other offerings you would want to make to the Lord. You need to take a holy dip at Kotiteertha before entering the temple premises.
Situated on an island called Shivapuri, Omkareshwar temple has always been an attraction for Shaiva Bhakts for it's pure splendour.
The temple has a huge courtyard (Sabhamandap) with 60 beautifully carved pillars, each approximately 14 feet high. The beautiful temple is five storied and each floor is dedicated to a different God – Omkareshwar, Shri Mahakaleshwar, Shri Sidhnath, Shri Gupteshwar and Shri Dhwajadhari Shikhardev. The temple priest Pt. Akhilesh Dixit elaborated the daily proceedings. Everyday, three Aartis are done. Morning Aarti by the temple trust, afternoon by the Scindia descendants and the evening Aarti by the Holkar descendants respectively. Due to Holy water offering at the Jyotirlinga (termed as Jalabhishek) the pool surrounding the Jyotirlinga is always filled with Narmada water. Followers believe that their faith on Shiva stays strong and the bubbles in the pool denote that the almighty is satisfied with their offerings. The water goes back to Narmada.
Temple has an entry fee of Rs. 100 which shoots up to Rs. 300 during festival seasons. After the Pooja, while you come back from the temple, you will be greeted with small shops flashing all colors of Gulaal as they are Shiva's favorite. There are shops with coins and Shivalinga collected from the Narmanda bank. In the Revakhand of Skandpurana, Sage Vedvyas mentions that every stone from the banks of holy river Narmada, popularly called the Narmadeshwar Shivalingas, is bestowed to be manifest as Shiva. Hence, Narmada is famous for each of its stone radiating Shiva's energy, which is worshipped everywhere. The devotees accept the offerings to these Baanlingas as Prasad.
The Sacred Circle – Om Parikrama
Shivpur area has a Parikrama Path of around 7 Kms. Nowhere else will you get to circle the OM along with nature bestowing upon the best it can. It's a heavenly abode. OM signifies the Vedic traditions, OM depicts the focus of the Universe, OM echoes the silence amongst the sound and above all OM resonates the transformation of the Universe. To simplify things, OM is the eternity; Nature conspiring a landform to transform into OM was something more of a miracle, I would have never believed if not seen it in person.
We were foot soldiers in this two and a half hours expedition with Mango, Peepal, Khair and Dhaawda trees greeting us with their extended branches, gently providing us the shadow, while a huge group of monkeys hopping from one tree to another became our mates for the rest of the journey. And, in front was the majestic Narmada. As calm as ever. The sedating beauty intrigued to know more; To explore further. May be because of this mesmerizing view, 33 koti deities, 68 Pilgrimage, 128 Gupt(amour) Rudra Linga, 12 tirthlingas, were believed to reside at Omkareshwar.
Once you enter King Muchkunda's fort, the entrance depicts Bheema, Arjun, Hundi- Kundi Bhairav, Sun-Moon Dwaar, Kunti and Seeta Maata Mandir's dilapidated images oscillating the courageous history of Omkareshwar. Locales believe that Pandavas rested here during their exile. Parashuram and Kiratarjun's war also belongs to this place. Star shaped temple of Gauri Somnath is also situated along the parikrama way. The ancient Linga is made of black grindstone. There is a huge idol of Nandi, the Bull, carved out from Black stone in front of the temple. Locales believe that the 15 ft high Linga was made of crystal in which people glimpsed their past and future births. The practice did not appeal Aurangzeb, who turned it into black. Locally famous as Mama-Bhanja temple, the circumference of this Linga is huge and even two people together cannot embrace it. In front of the temple is an enormous statue of Hanuman in lie-down position (Lete Hanuman) who is worshipped here as the aade Hanuman.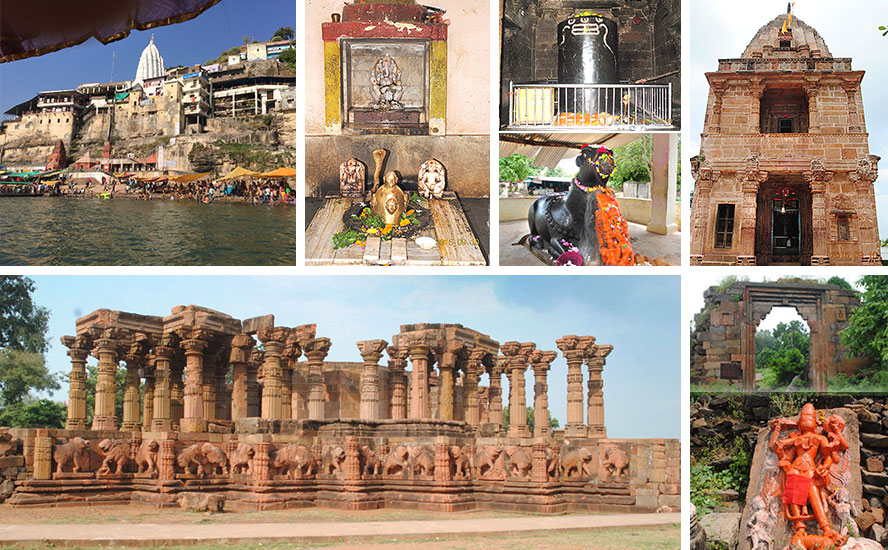 Siddhnath Baradari on the way is worth your time and pleasure. The architecture is so appealing that although incomplete, this place calls for your attention. The square shaped structure has 18 carved pillars, all 14 feet high. Lord Curzon preserved this five-storied building. Made from grindstone deposits, this building would have been a phenomenal structure, if completed. The raised platform has a temple that has 50 carved elephants each standing 5 feet tall. These small, unfinished, yet brilliantly carved pieces depict the grandeur of the plan that must have been made to complete the structure. Narmada meets Kaveri at this place. Before you startle over facts, it is not the one showering South India. This river, also known as Gupt Kaveri, became a staircase to the heaven with river Narmada owing to the prayers by Yaksharaj Kuber. The water from the Sangam of the two rivers is offered to the forefathers by the devotees. There is a temple called HrinMukteshwar. People offer grams and ask the Lord to make them free of all debts. The Parikrama Path is full of dilapidated forts, reins of temples and gates indicating the rule of the Parmar Vansh in this region. The place seems to have a transit area. You keep visiting eras without keeping a tab on time.
Om Namah Shivaay – The Divine Aarti
We were interrupted or let us say, brought back to the present age with loud drum sounds and thumping Dhols echoing from Omkareshwar temple. The loudspeakers indicated that it was time for the Evening prayers. Shiva Aarti was playing on the loudspeakers. This is what one needs, resolute Shiva chants – Om Namah Shivaay…Om Namah Shivaay; it synchs with your energy, the new imbibed, positive one. Confusions take a backseat and you chant more – Om Namah Shivaay….Om Namah Shivaay. Filled with eternal calm it was a divine sight to see groups of Diyas (lamps) floating in the Narmada and the light reflecting your inner strength, may be a hidden halo shining back in that reflection.
As soon as Narmade Twadeeya Paad Pankajam, started echoing on the loudspeaker, more and more people gathered on the Kotiteertha, Chakrateertha and Gomukh Ghats of Narmada. Narmada Aarti at the Gomukh Ghaat is done by Juna Akhada.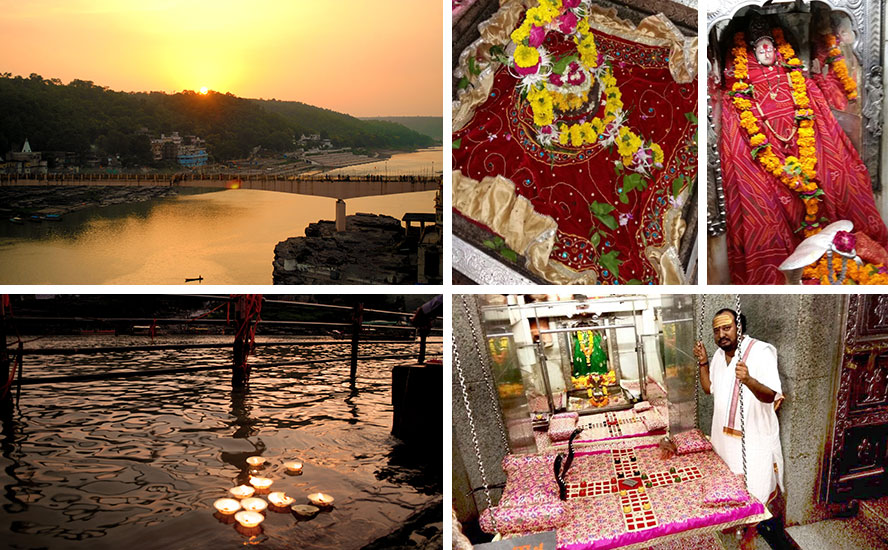 Narmada, is considered as the pious mother and just a humbling glimpse of her makes Shiv Bhakts feel blessed. She is the epitome for feminism. She is tender yet fierce, soft yet daft. She is bountiful. She is the only river who is worthy of a Parikrama and the 2600 km stretch is generally tough for the pilgrims. Narmada is beyond words. The more you want to catch hold of words, the more you feel lost.
After the final Aarti in the night (Shayan Aarti) around 8.30, Omkareshwar Mandir performs a Shayan Shringar, which simply means that the Lord is prepared to go for a sound sleep. We decided to be a part of such a beautiful ritual as our eyes were already fixed on two cradles meant for Lord Shiva and Devi Parvati. The Shayn Sej (Sleeping Bed) had a Chaupad (a board game played with couple of dices), Chanvars and a pair of silver snakes. The Garbhgriha was beautifully prepared. Pandit Akhilesh Ji further told us that Omkareshwar is the only place where Shiva sleeps. People believe that he sleeps at Omkareshwar but wakes up at Mahakaleshwar with Bhasmaarti.
The night slowly folded, everything was getting even calmer as we returned to Narmada Tourist Resort strolling the cradle bridge.
The Comfort – MP Tourism's resort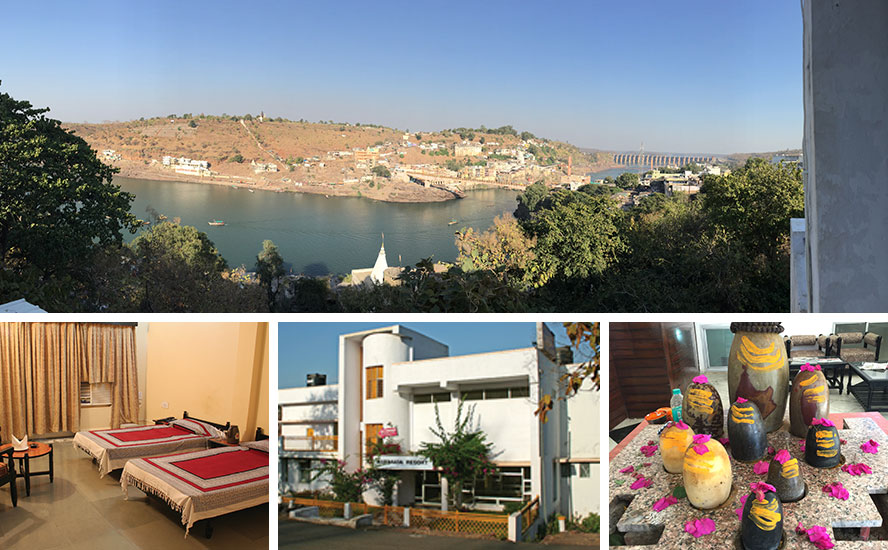 The hotel rooms at Madhya Pradesh Tourism's Narmada Resort are comfortable and make you feel at home. Don't expect any five star services or facilities. It is as simple and sober as the surrounding. The staff is decent and will make you feel more than welcome. People here are simple and jolly. They radiate their values and culture in everything they do. Right from their language to their food, they represent their traditions with utmost pride and sincerity. You will feel a Holy presence after you experience the place whole day. We went for a sound sleep and woke up to beautiful Shiva chants again at 5:30 in the morning. The glass windows, once again took us for a compelling nature walk, this time only in thoughts. Dew drops on the leaves making them shiver, Sun leaving Narmada's lap and going up again could easily be any poet's dream!
DAY 2 – Amleshwar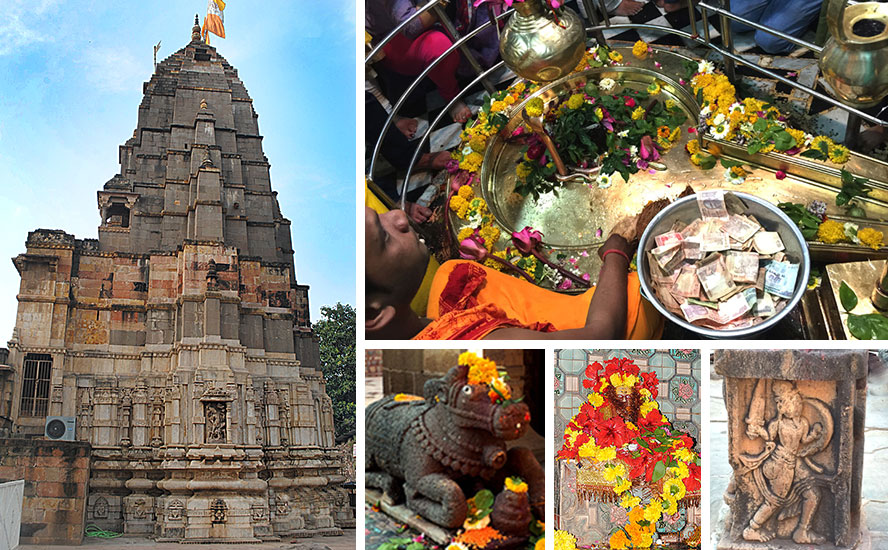 We dedicated the next day to Amleshwar temple situated in Brahmapuri. We reached there through a bridge. The place is guarded by the Central Archaeology Department. The epigraphs obtained from this place denote that the temple is as old as 1063 AD. The pillars and entrance gates replicate the mythical stories of Devasurs. Peshwa Bajirao II and Ahilyabai Holkar contributed a lot to the restoration of this temple. In 1063 AD, Raja Udayaditya, a Parmar Ruler, established four epigraphs. The Shiv Mahimastotra from Pushpadanta marks its origin from here. This area has been the saadhna-sthali for Rishi Agastya. While it is said that Adi Guru Shankaracharya also received deeksha here. His cave is believed to be on the banks of Naramada. Markandeya Rishi's Ashram also adorns the place.
The temple offers prayers through 1325 Shiva Pindis daily. These are made from Narmada mud on a wooden plank and the whole process is called Parthiveshwa Poojan. This ritual is followed everyday. After the prayer, Shiva Pindis are dispersed in Narmada water. The ritual was started by Ahilyabai Holkar. You can be a part of the same after offering Rs. 1100. Ahilyabai Holkar trust, till date follows the ritual of making the Parthiva Lingas on five wooden planks.
Shiva is the simplest Lord to please. A mud idol, bilva patra, his favorite Dhatoora, a soulful chant of Om Namah Shivay and he is more than pleased with his devotee. He defines innocence to his followers while he is the destroyer for the evil. The place has a Monday tradition where Shiva is prepared for a palanquin ride in the city amongst songs, Dhols and Gulaal. Shiva is the King of Omkareshwar and a king should always know how his kingdom and countrymen are. Thus, the tradition follows. The only source of income for the people here is related to Shiva tasks. Whether they own a shop, are a pundit or Boatmen.
It was time to bid adieu. We boarded our Audi and said a final goodbye to the place that echoes Shiva without any hesitation or interruption – Clear and Loud. Believe me, once you come back from this place, you will bring back a part of Shiva in you. A part that is calm, innocent and grounded. Merged in the holy aura of Shiva soon we realized our Audi had already crossed Indore and had entered Bhopal limits.